Cohesity DataPlatform

Cohesity DataPlatform™ consolidates data and applications including backups, files, objects, dev/test, and analytics on a single, software-defined platform.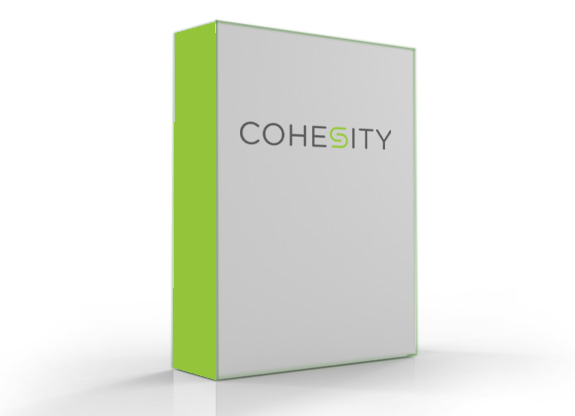 Cohesity Products
Software
Cohesity DataPlatform
Overview:
Inspired by web-scale architecture, DataPlatform is a scale-out solution based on a unique distributed file system, SpanFS®. DataPlatform modernizes and simplifies data and application management by providing one platform for multiple workloads. Although most organizations begin their journeys to overcoming mass data fragmentation by simplifying data protection, DataPlatform's flexible architecture allows easy expansion to additional use cases, further increasing operational simplicity and improved TCO. Because DataPlatform is a software solution, it works equally efficiently on-premises on qualified Cisco, HPE, Dell, or Cohesity hyperconverged platforms as well as in the public cloud.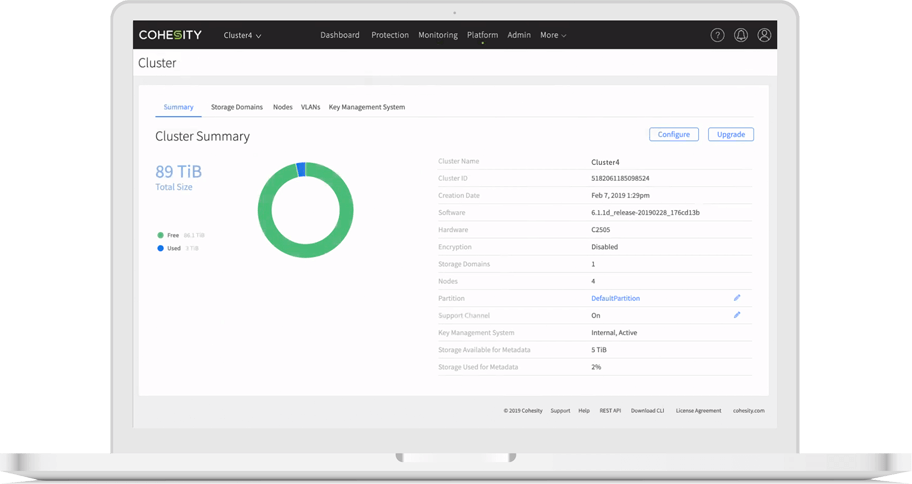 Core Features:

Web-Scale Simplicity and Efficiency:
The flexible, resilient, and on-demand web-scale benefits pioneered by hyperscalers such as Google are now available to enterprises with DataPlatform. The solution eliminates unnecessary data silos and spans workloads as it converges data on a single platform. It accommodates data growth by delivering scale-out file and object storage in a limitless, pay-as-you-grow model without disruptive upgrades.

Easy, Cloud-Ready Deployment:
DataPlatform is cloud-ready, ensuring seamless and rapid data and application mobility with leading public cloud providers including Amazon Web Services (AWS), Microsoft Azure, and Google Cloud Platform. Take advantage of public cloud elasticity and economics using policy-based automation for archiving, tiering, and replication to the cloud. Move virtual machines (VMs) to the cloud for dev/test and then back again when ready.

Flexibility that Extends into the Cloud:
DataPlatform is powered by a patented distributed file system architecture, making it much more than a modern converged target for backup data. It can be used to recover applications instantly from any point in time to meet business SLAs. Cohesity and third-party applications also simplify file data search, speed eDiscovery, and streamline compliance. Built to support an API-first approach, DataPlatform integrates with leading automation solutions and custom business scripts to increase operational efficiency.

Specifications:
Hyperconverged Architecture

Cohesity SpanFS, a distributed file system
Web-scale architecture with unlimited scalability
Non-disruptive upgrades
Unlimited, distributed snaps and clones with no performance impact with Cohesity SnapTree

Multiprotocol Support

Distributed volumes with multiprotocol NFS, SMB, and S3 access
Support for simultaneous sequential and random IOs

Storage Efficiency

Global deduplication across all nodes, variable length, inline, or post-process
Compression, including Zstandard
Erasure coding 2:1, 4:2, and 5:2, and replication factor

Data Resiliency

Strict consistency across nodes within a cluster, ensuring data resiliency and that reads always return the most recent data
Two node and two disk fault tolerance support

Use Cases

Backup and recovery
Target storage
Files and object storage
Security and compliance

Supported Applications

Cohesity DataProtect – DataPlatform is the foundation for DataProtect's delivery of comprehensive data protection for all workloads, anywhere on a single platform that converges backup, recovery, replication, and target storage with fast RPOs and near-instant RTOs
Cohesity Helios – SaaS-based global data and apps management for Cohesity environments
Cohesity Developed Apps - Native applicants including Pattern Finder, Password Detection, Video Compressor, and other containerized applications from the Cohesity MarketPlace.
Third-Party Apps - Including Splunk, SentinelOne, Cristie, and more from the Cohesity MarketPlace.
Custom Apps - Develop custom apps using Cohesity's App SDK

Global Search

Automated global indexing
Wildcard searches for any VM, file, or object on the platform

Flexible Deployment

Software-defined solution for on-premises, public cloud, and edge sites
Private cloud/data center – Hyperconverged storage appliances, supporting qualified Cisco, HPE, and Cohesity hardware
Virtual Infrastructure - DataPlatform for virtualized infrastructure (VMware vSphere)
Public cloud – DataPlatform Cloud Edition for a variety of use cases in leading public clouds
Remote/edge sites – Simplified data and applications management with DataPlatform for Edge

Public Cloud Integration

Native cloud integration with all leading public clouds including AWS, Microsoft Azure, Google Cloud Platform, and any S3 compatible clouds, as well as AWS Govcloud and Microsoft Azure GovCloud

Global

Management

Cohesity Helios for multi-cluster, global active management

Integration and Automation

API-first architecture
OpenAPI standard
RESTful API
Python SDK
PowerShell Module
VMware vRealize (vRA/vRO)
VMware vCloud Director (vCD)
ServiceNow
Ansible

Encryption

Software AES-256, FIPS compliant encryption of data in flight and at rest
*All storage capacities listed are raw.
Cohesity Products
Software
Cohesity DataPlatform