Cohesity C2500 Data Platform

Increase flexibility, visibility, and efficiency with the industry's only scalable, intelligent data platform

Sorry, this product is no longer available, please contact us for a replacement.
Overview:
Purpose-built to enable complete scalability, extensibility, and intelligence for organizations, the C2000 Series brings the value of Cohesity OASIS Operating Environment to the data center with robust, fault-tolerant hardware appliances. With the C2000 Series, organizations can start with the right-size data platform that is ideal for their environment, and scale out as needed, on their own terms, one node at time.
The Cohesity CS2000 series is a standards based hardware platform, built on high-end commodity components. Coupled with the Cohesity software, it offers a highly available and infinitely & incrementally scalable appliance that grows with the organization.

Pay as you grow.
The C2000 Series, combined with the flexibility of Cohesity OASIS, lets organizations choose how and when they scale… no more pre-paying the hefty upfront expenses for anticipated growth or incurring hidden costs associated with forklift upgrades of traditional scale-up systems. Mixed hardware configurations and generations can all co-exist seamlessly.

Always on.
The era of both planned and unplanned outages are over! The C2000 Series was designed with complete high-availability in mind, ensuring organizations can continue conducting business in the event of an outage as well as during maintenance with support for rolling non-disruptive software upgrades.

One platform. Infinite possibilities.
With the C2000 Series, organizations can choose the data platform for one or more use cases for their environment to streamline management and increase efficiency, including data protection, in-place analytics, Test/Dev, file services or other storage needs.
Core Platform Features:


Global Deduplication
Deduplication and compression across all nodes, in-line and post-process


Replication
Data-aware, network-optimized for multi-site protection


Real-time Indexing
Predictive search and recovery of any data


Cloud Integration
Cloud-enabled, optimized for cost, performance and security


High Availability
Full hardware and software component redundancy


Quality of Service
Workload-specific performance prioritization


Snapshots
Infinite, frequent, instant and fully hydrated


Non-disruptive Operations
Scale incrementally and upgrade with zero downtime
Software Architecture:
The Hidden Cost of Trying to Make Legacy Solutions Work
Traditional storage architectures haven't kept pace with the demands of explosive data growth and the need to support new workflows such as big data analytics. They have created silos of management, systems and workflows, leading to massive data sprawl and countless copies of data. Over the years, organizations have tried to address new business imperatives by adding, swapping, and integrating new solutions into legacy architectures. All these stopgap measures and purpose built solutions have created complex, isolated and disjointed processes for managing Data Protection, Test/Dev, File Services and Analytics workflows.
Cohesity was founded with the core principle of building the next generation, truly distributed general purpose storage system that eliminates the fragmentation in data storage and puts an end to the decades-long "Band-Aid effect" that has plagued data storage solutions.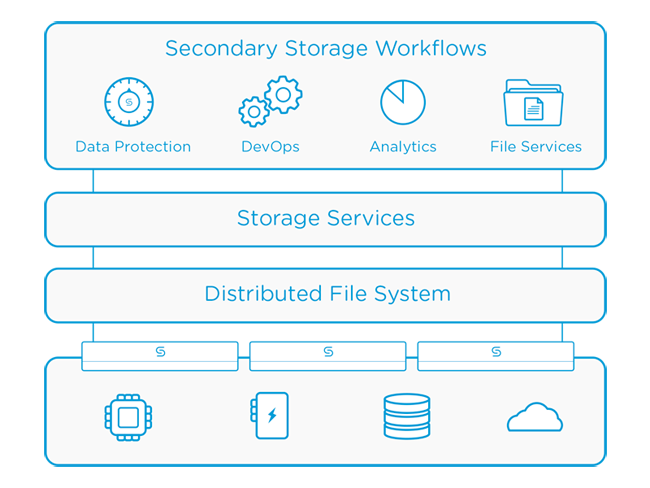 Multi-layered Architecture
Cohesity has built a web-scale, distributed, multi-layered architecture that comprises of physical and software layers working together to support the application layer that ultimately manifests the many different storage workflows.
Physical Layer
It is physically a shared-nothing distributed architecture. It allows us to take advantage of low-cost, high performance commodity hardware. Each node has compute and storage resources connected by a dual 10GbE network. Intelligent software coordinates these nodes to operate as a single, coherent system. There is no single source of bottleneck allowing for infinite and complete linear scalability.
Base Layer: Cohesity Open Architecture for Scalable Intelligent Storage (OASIS) Filesystem
The Cohesity Data Platform is built on the Open Architecture for Scalable Intelligent Storage (OASIS), the only file system that combines infinite scalability with an open architecture flexibility that consolidates multiple data storage workloads onto a single platform.
OASIS was built from the ground up to be a fully distributed, strongly consistent and versatile storage system. A key part of the file system is our unique snapshotting technology called SnapTree. SnapTree allows for frequent and near instant snapshots, while keeping the data fully hydrated. This supports the most stringent RPO/RTO goals imaginable. Another key part is a true global deduplication capability that ensures that the same dedup block is not written twice across the cluster.
OASIS is itself comprised of several components, each one handling a key function to provide a completely fault tolerant, infinitely scalable architecture. These components enable seamless scaling of the system as new nodes are added. This also ensures high availability of all hardware and software components. They also abstract hardware resources including compute and different tiers of storage (SSDs, HDDs, Cloud) to manage Quality of Service levels for different workloads that co-exist on the system.
Service Layer
The full power of the OASIS file system is unleashed through a set of interfaces that together constitute the service layer. This layer is key to unleashing the power of the filesystem in numerous different storage workflows. The services layer supports storage protocols such as NFS and SMB. It enables replication between different clusters to support disaster recovery and data availability. It has built-in search and a MapReduce framework to support instant search and ad-hoc file content analytics.
Application Layer
The application layer supports all the storage workflows which currently include comprehensive data protection, Test/Dev, File Shares, Analytics and Cloud integration. The application layer provides cloning, scheduling, policy management, backup software, application adapters, integration with LDAP/AD, data archival, pre-built analytics apps, as well as a powerful framework for creating custom analytic applications. The storage workflows are controlled through a single pane of glass built on top of RESTful APIs.
Why Cohesity?
Legacy Secondary Storage
Fragmented, Inefficient, Dark Data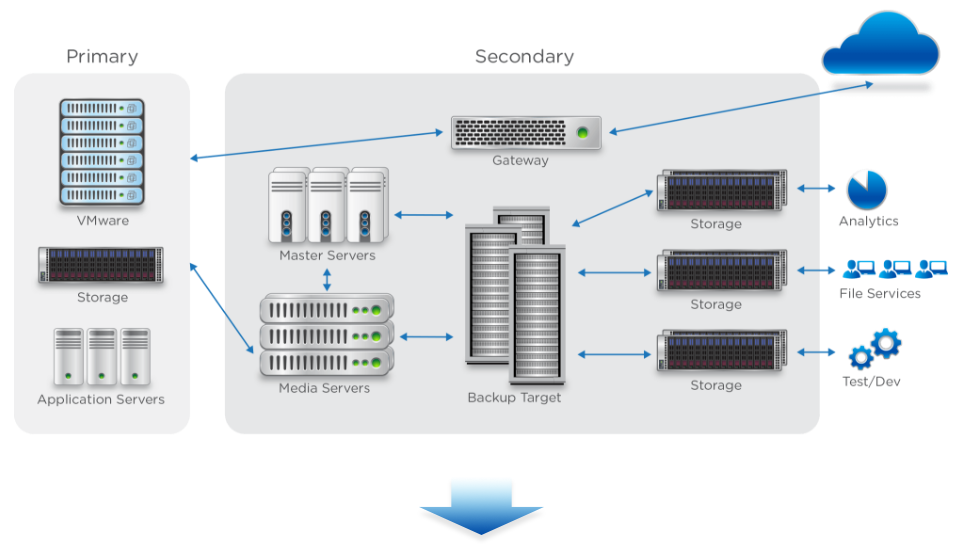 Hyperconverged Secondary Storage
Consolidated, Simple, Insightful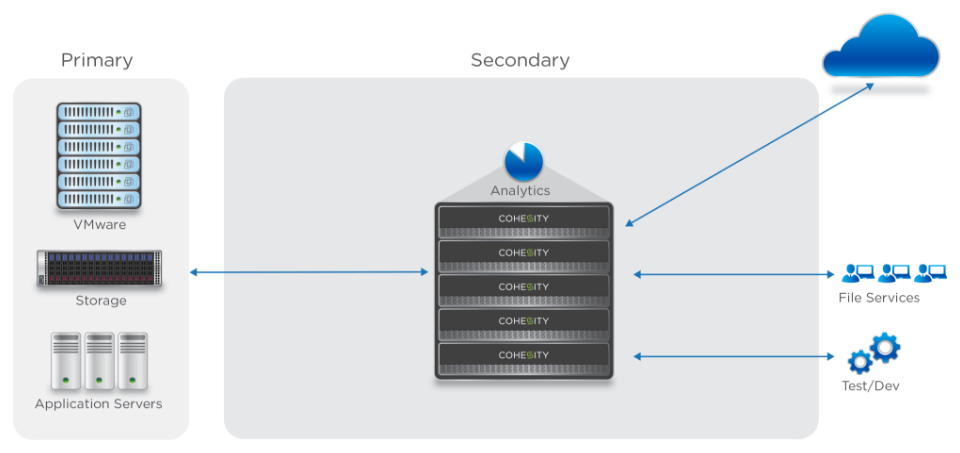 Specifications:
C2300
C2500
Per Node
Per Block (4 Nodes)
Per Node
Per Block (4 Nodes)
Hard Disk Capacity*
12 TB
48 TB
24 TB
96 TB
PCI-e-Based Flash Storage*
800 GB
3.2 TB
1.6 TB
6.4 TB
Memory
64 GB
256 GB
64 GB
256 GB
Compute
2x Intel Xeon E5-2600
2.4 GHz 8-Core CPUs
8x Intel Xeon E5-2600
2.4 GHz 8-Core CPUs
2x Intel Xeon E5-2600
2.4 GHz 8-Core CPUs
8x Intel Xeon E5-2600
2.4 GHz 8-Core CPUs
On-Board Network Connectivity
2x 10 GbE
2x 1 GbE
1x IPMI
8x 10 GbE
8x 1 GbE
4x IPMI
2x 10 GbE
2x 1 GbE
1x IPMI
8x 10 GbE
8x 1 GbE
4x IPMI
Operating Environment
Cohesity OASIS
Storage Protocol Support
NFSv3, SMB 3.0, REST
Data Protection API Support
VMware vSphere APIs for Data Protection (VADP)
High Availability
Native Site-to-Site Replication
Cloud Archive
Google Cloud Storage Nearline, Microsoft Azure, Amazon S3 & Glacier
Encryption
AES256
Dimensions
-
2U EIA Rack Units
(19" x 22" x 3.5")
-
2U EIA Rack Units
(19" x 22" x 3.5")
Weight
12.5 lbs.
100 lbs.
12.5 lbs.
100 lbs.
Power Supply
1,600 Watts (Maximum per block)
Voltage
2x 110/220V AC Auto-Sensing Fully Redundant Power Supplies (per block)
Frequency Required
47 Hz to 63 Hz
Thermal Rating
5,459 BTU/Hour (Maximum)
Operating Temperature
10°C to 35°C (50°F to 95°F)
Non-Operating Temperature
-40°C to -70°C (-40°F to -158°F)
Emissions and Immunity
FCC Part 15 Class A, ICES-003, CE, KCC, VCCI, BSMI, 80 PLUS Platinum
Safety
CE, GS, GOST-R, IRAM, BSMI
*All storage capacities listed are raw.
Views:


Front View with Cover




Front Open View




Rear View
Videos:
Cohesity Limitless Data Platform for Secondary Storage
This animated video will guide you through the Cohesity vision and highlight our goals of bringing the benefits of hyperconvergence to secondary storage by consolidating data protection, file shares, and other workflows onto a distributed, scale-out platform.
Cohesity UI & Dashboard Overview
The Cohesity user interface by doing a detailed overview of the dashboard.