The Latest Cohesity News

Product and Solution Information, Press Releases, Announcements
Modern Data Management—At Your Service
Posted: Wed Oct 14, 2020 07:38:41 AM

It's been over 20 years since Salesforce's proclamation of "No Software" and the red circle/bar icon. In that time we've seen the '-aaS' suffix applied to just about every letter of the alphabet (seriously: Q, K, W and Z are all taken) and we're well into the five-letter series now.
But despite that proliferation, the world of data management hasn't yet fully embraced SaaS as a comprehensive service offering. As we discussed in my previous blog, legacy solutions have struggled to embrace the cloud as a native environment, let alone SaaS, whereas more cloud-centric solutions tend to offer only certain workloads rather than the full range of use cases.
We wanted to address those limitations by leveraging our existing platform—which from day one was designed to support multiple use cases, workloads, and apps at web-scale across a true hybrid landscape —to offer a Cohesity-managed SaaS implementation alongside our current customer-managed solution.
So today, we're pleased to announce a turnkey Data Management as a Service (DMaaS) solution that will provide the same comprehensive set of benefits in an easy to implement pay-as-you-go solution, managed and operated by Cohesity. The DMaaS solution will provide all the usual SaaS benefits, such as the ability to move from CapEx to Opex funding, eliminate overprovisioning, and redeploy IT staff to more strategic projects, but it will go much further.
Our DMaaS solution will provide access to the industry's most comprehensive set of data management offerings—including backup and recovery, disaster recovery, archiving, file and object services, dev/test provisioning, data governance, and security—in a single, very easy-to-use integrated environment. Before this, IT would have to assemble a hodge-podge of SaaS solutions from a host of vendors, with the associated overhead of managing different service levels, license terms, and admin interfaces—in other words recreating the same mass data fragmentation problems seen with legacy infrastructure silos. But, not anymore.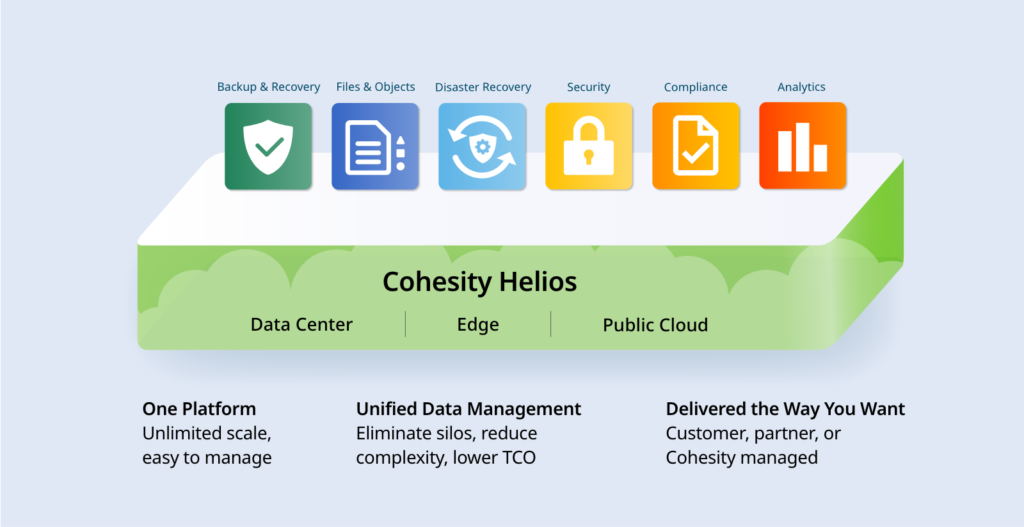 To bring this solution to market, we are engaging in a strategic collaboration with Amazon Web Services (AWS), our preferred cloud provider for DMaaS. Through this collaboration, customers gain the combined benefits of the Cohesity Helios multi-cloud data platform—where everything can easily be managed from one user interface—and industry-leading cloud services from AWS in a convenient, easy to consume form. Our first DMaaS offering is Cohesity DataProtect delivered as a service, with more to follow. We believe this innovative approach brings a number of additional advantages:
Easily Manage a True Hybrid Deployment
Many organizations operate in a hybrid mix of public cloud and on-premises environments, increasingly including edge locations and multiple cloud and service providers, and this presents a growing data management challenge for IT. How can they ensure data is protected, available, optimized, compliant and secure—let alone providing value and insight—across such a heterogeneous and changing landscape? The data needs to be consistently managed where it is located, but administered globally to minimize effort and facilitate end-to-end SLAs.
The Cohesity Helios platform already provides a SaaS-based console that delivers single-point global management of all workloads, data, and apps across a distributed hybrid deployment, with built-in intelligence and automation. Customers will use this same globally actionable console to administer our DMaaS offering, so they have the ability to see, control, and act on all aspects of their data from a single UI for dramatically simplified operations and lower TCO—across both customer-managed and Cohesity-managed environments.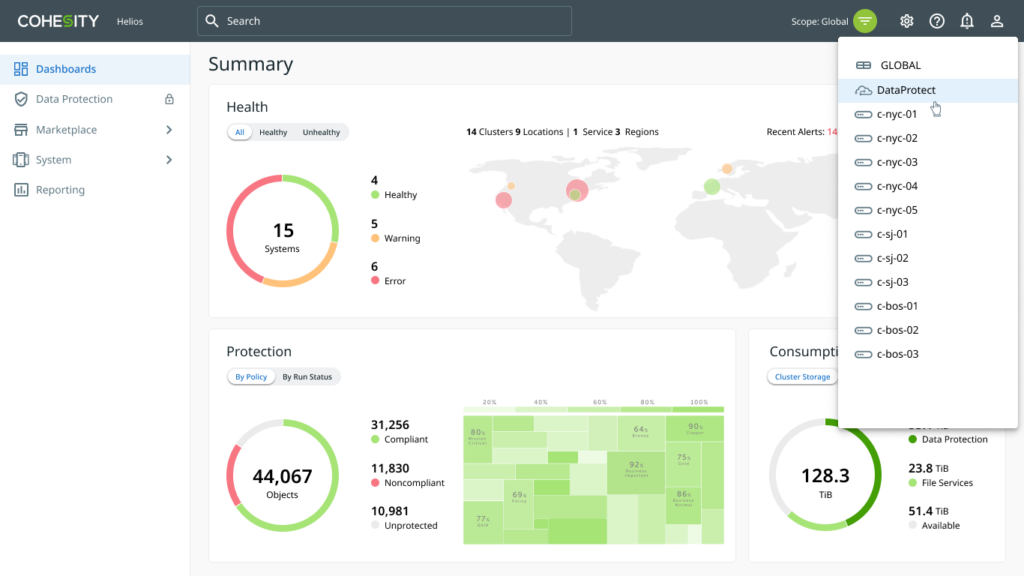 Bring Enterprise-Class Technology to Businesses of All Sizes
Smaller organizations have been drawn to the SaaS model as a way to gain immediate access to technology without the commitment and investment of in-house IT, but a fully integrated platform supporting a full range of use cases together with proven enterprise-class data management capabilities hasn't been available in SaaS form until now. By bringing the full power of Cohesity's platform to the SaaS world, organizations with limited resources will be able to level the playing field with some of the world's largest and most sophisticated technology adopters in financial services, healthcare, pharmaceuticals, and the public sector, who have enjoyed the benefits of our approach for some time.
Take Advantage of Cloud-Based Services
A major aspect of our vision has always been to make sure data is not only protected and available but equally importantly, to ensure it's very easy to derive value from that data. Cohesity Helios already has the unique ability to run apps and services against the data being managed within the same environment, even in customer-managed on-premises deployments, obviating the need for separate systems and attendant IT overhead.
With the DMaaS solution, customers will be able to take advantage of this same principle by tapping into the powerful portfolio of cloud-based services offered by AWS as well as the Cohesity Marketplace to accomplish important value-added processes such as:
Search, classify and take action on data to ensure regulatory compliance or to quickly address eDiscovery requests

Accelerate app development through access to cloud libraries, tools, and community resources

Curate data feeds to analytics or data warehouse apps to extract useful insights

Feed machine learning models with training data to help accelerate AI initiatives
The Holy Grail: Enabling IT as a Service
The ability to harness an organization's entire set of data assets and manage them at will on a service-level basis can be a strong contributor to digital transformation and IT as a Service initiatives. IT can focus more on managing their data to achieve business outcomes and less on managing their technical infrastructure, can empower users with the timely information they need, and can continually optimize their resources, safe in the knowledge that the data is always protected, secure and no longer hidden away in individual silos.
The Cohesity Helios platform provides an ideal solution in this regard, since it delivers a single consistent, scalable platform for managing data and workloads wherever they are distributed across a hybrid landscape, from data centers, to edge environments, to public clouds.
Conclusion
Data is more important than ever to the digital business, but comprehensive data management often remains elusive. The combined effects of mass data fragmentation and the growing complexity of hybrid infrastructure make it all but impossible to control and harness the value of data with existing tools. That's why we redefined data management with a 'clean sheet' approach, based on a purpose-built hybrid cloud software platform that eliminates the silos, simplifies operations and allows value to be extracted, all in the same environment under granular control.
Today, we've taken that story another step forward by taking the first step towards providing the full power of that platform in a Cohesity-managed SaaS environment, offering a new consumption option for customers to experience modern data management in a convenient, flexible manner, and re-framing the full value of "DMaaS" as it joins that long list of acronyms started 20 years ago…
Originally posted by Cohesity