The Latest Cohesity News

Product and Solution Information, Press Releases, Announcements
Public Cloud or On-Premises? Get the Best of Both Worlds and Lower TCO with HPE GreenLake with Cohesity
Posted: Tue Apr 14, 2020 03:02:03 PM

By Nikitha Omkar
We are living and working in unprecedented times and ways that are pushing the boundaries of what's possible. The operating environment for organizations and their IT teams has dramatically changed, with leaders looking to lower their expenses while running critical IT functions remotely from home. Simplicity and total cost of ownership (TCO) is top-of-mind as enterprise IT leaders are expected to do more with less, particularly when it comes to the management of their most important digital asset—data.
For some, cloud-based solutions can be the answer to streamlining enterprise data management, providing greater flexibility, speed, and agility. But, if not managed carefully, this may result in pricey cloud bills that give IT executives sticker shock. Beyond that, enterprises must also consider security and compliance of data not being housed in your own data center.
An alternative to cloud is keeping all your data and apps on-premises. While boosting privacy and control, data sovereignty, visibility, and security, this approach also has shortcomings. The skilled resources and time needed to efficiently manage and protect data center infrastructure can cause a strain on your IT teams, and force you and your staff to focus on day-to-day routine tasks involved in keeping the lights on.
Should your enterprise have to choose between flexibility and cost? Or agility and control? We don't think so. That's why Cohesity and Hewlett Packard Enterprise (HPE) are excited to announce that Cohesity is now available through the HPE GreenLake as-a-service consumption model.
Modern, Pay-As-You-Go Model for Data Management
For the first time, your organization can take advantage of Cohesity's industry-leading data management capabilities and HPE's proven infrastructure, in the modern pay-as-you-go* consumption model that HPE GreenLake provides. You can now get the-best-of-both worlds with a flexible, cloud-like data management experience, while still maintaining privacy and control of your on-premises data — all with lower TCO.
HPE GreenLake with Cohesity is consumption-based* data management in your data center, at the edge, or in a co-location facility for worry-free backup, disaster recovery, file and object services, agile dev/test, analytics, and archiving across hybrid and multi-cloud environments. You enjoy all the benefits of our efficient, enterprise-class Cohesity DataPlatform offered in a flexible, pay-as-you-go experience that simplifies how you manage, protect, and derive insights from your non-latency sensitive data and solve mass data fragmentation.
Improve Business Agility While Lowering TCO
HPE GreenLake with Cohesity gives you the agility of a cloud-based solution by aligning your IT costs to business outcomes. Get billed monthly for your usage* and avoid any up-front costs, lowering your TCO. Quickly adapt to changing business needs by adding capacity on demand, paying only for what you need today,* and avoiding wasted spend due to overprovisioning.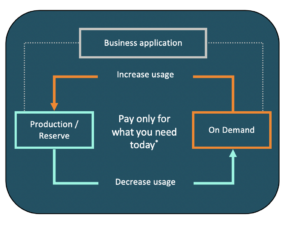 Simplify IT While Retaining Control
This agility doesn't mean that you need to sacrifice visibility and control. HPE GreenLake with Cohesity allows you to keep your data in your environment so you can reap cloud benefits without losing privacy and control. Fulfill performance guarantees and adhere to strict security, compliance, and SLA requirements with ease. Having HPE as a single trusted source for the entire Cohesity–HPE solution greatly simplifies procurement and support. And you don't have to wait for months to add increased capacity, upgrades, or add-ons. The HPE team plans for buffer capacity which you can begin to use in days with a simple change order.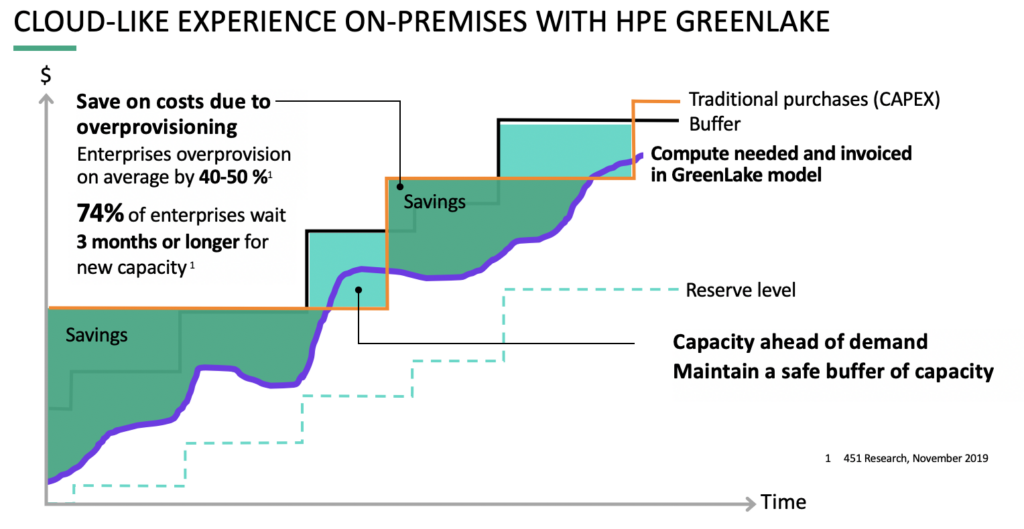 For a true hands-free experience, you can optionally consume Cohesity data management as-a-service by leveraging GreenLake Managed Services. Outsource the deployment and management of day-to-day routine activities involved in keeping the lights on and allow your IT team to focus on more strategic initiatives, making them true partners to the business.
Choose a Proven Partner to Back You Up
HPE GreenLake with Cohesity includes access to the skilled resources and expertise of the HPE PointNext Services team who act as the single point of contact for support and capacity planning of your non-latency sensitive data management infrastructure. The team partners with you to gather your unique requirements; helps you choose the right solution for your needs; configures, sizes, delivers, and installs the solution at the location of your choice—in your data center, at the edge, or in a co-location facility.
In partnership with you, the team also measures and monitors your use through the consumption analytics portal—a single interface that gives you complete visibility and control of your usage through personalized dashboards, customizable alerts, and self-service reporting. Get the insights your organization needs to optimize usage and costs based on rule-based thresholds, and plan capacity ahead of demand. When needed, the HPE team works closely with Cohesity technical resources through a collaborative support model to ensure you have a superior customer support experience.
Do more with less by leveraging HPE GreenLake with Cohesity for your data management needs. Enjoy a cloud-like experience, on-prem.