The Latest Cohesity News

Product and Solution Information, Press Releases, Announcements
A Better Way to Protect and Manage Your Data with Cohesity and HPE Nimble Storage
Posted: Tue Dec 10, 2019 02:54:35 PM

With increasingly sophisticated cybersecurity threats in today's world, data protection is an important aspect of IT strategy, but at the same time, often an afterthought. This leads to organizations relying on inefficient, legacy solutions or point products for backup and recovery. Just for backup alone, the legacy approach requires multiple components such as media servers, master servers, target storage, cloud gateways, and tape devices for long-term data retention. These are difficult and expensive to manage and maintain. The result is mass data fragmentation that causes complexity, cost overruns, and compliance risks. A new approach is needed to manage and protect data and free it from being just an expensive insurance policy.
The good news is that organizations now have an opportunity to simplify and modernize their data protection investments, and by doing so, convert their data into the valuable asset it deserves to be.
Fortunately, the joint-certified Cohesity-HPE solution does just that. It is an integrated, software-defined, web-scale solution that eliminates the need for separate point products for backup and recovery, streamlines operations, and helps you do more with your backup and unstructured data.
A better way to back up data and applications
We are excited to announce that Cohesity and HPE have further advanced our partnership by adding native API integration of Cohesity DataPlatform software with HPE Nimble Storage for virtualized environments*.
HPE Nimble Storage arrays are typically used to run I/O intensive, business-critical workloads. These arrays provide high performance and availability for mission-critical applications. Protecting these applications using a hypervisor-based backup approach can impact the performance of production systems in virtualized environments. For example, hypervisor-based backups, while better than an agent-based approach needed in legacy systems, can cause Virtual Machine (VM) stun which occurs when the hypervisor-based snapshot is taken and I/O is temporarily quiesced from the guest to ensure an application-consistent backup.
To further improve the process of backing up VMs, Cohesity and HPE have partnered to provide native integration of Cohesity DataPlatform software with HPE Nimble Storage for virtualized environments. With this integration, you can protect applications running on HPE Nimble Storage using array-based snapshots. This results in more efficient backup as well as enhanced application performance.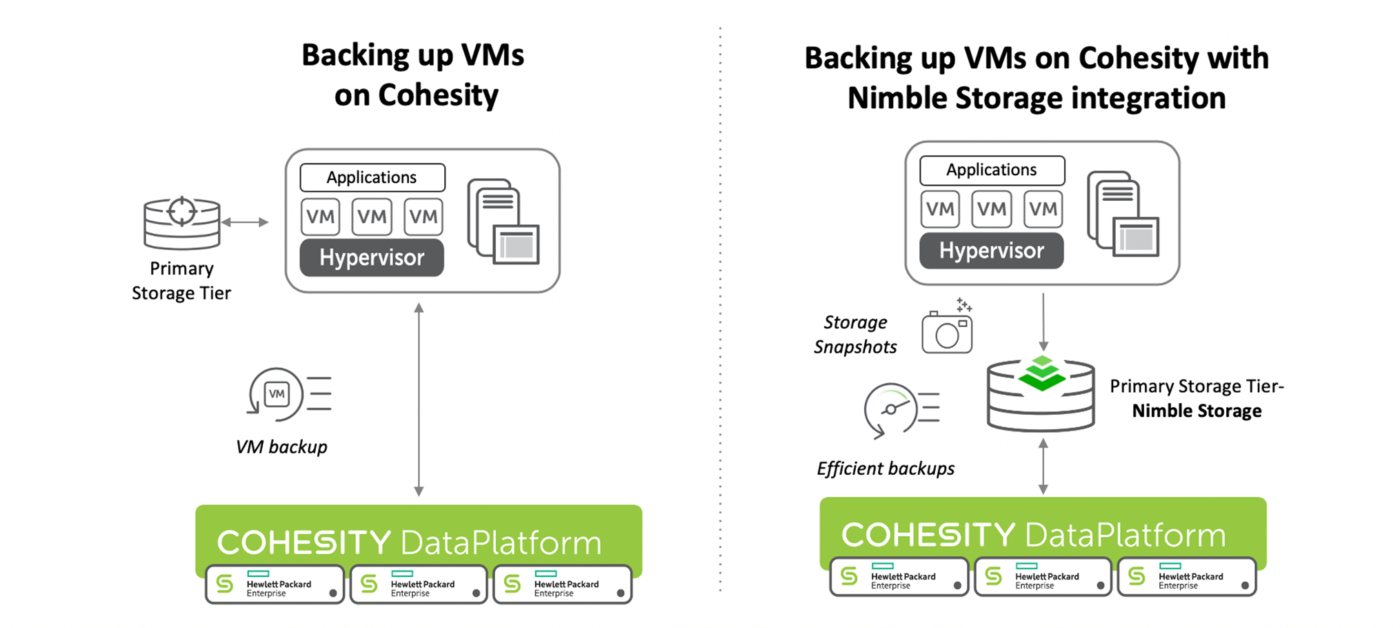 Figure 1: Backing up VMs on Cohesity
Some of the benefits with this native integration are:
Reduced VM stun in virtualized environments

Less impact on production environment, resulting in better application performance

More efficient backup

More frequent snapshots which leads to more granular recovery—reducing the risk of downtime and improving application availability

Ability to back up more VMs in a single data protection job

Better RPO with frequent and low impact HW snapshots
Additionally, Cohesity with Nimble Storage integration allows automation of snapshot creation and retention across HPE Nimble Storage and Cohesity storage tiers using standard policies created in Cohesity's easy-to-use User Interface (UI). It also gives you the ability to utilize pre and post processing scripts for application-consistent data protection. For example, these could be used to restore groups of VMs for Disaster Recovery (DR) test events. On average based on internal testing, VM Snapshot hold time decreased from 49 minutes with 20 VMs being backed up simultaneously to just 2 minutes with this new Nimble integration.
This integrated solution minimizes performance degradation on the production systems, improves the efficiency of backup, decreases management complexity, and lowers the total cost of ownership.
Simplify end-to-end data management with Cohesity and HPE
The benefits don't just end here. With Cohesity's platform-centric approach, IT organizations can leverage these benefits, not only for backup data but also for other non-latency sensitive data, thus further simplifying end-to-end data management from core, to edge, to cloud. In fact, the Cohesity-HPE solution is the ONLY integrated, software-defined solution on certified HPE servers that redefines data management for the vast majority of enterprise data—backups, DR, archives, file services, object stores, data used for dev/test and analytics, and long-term archival to cloud.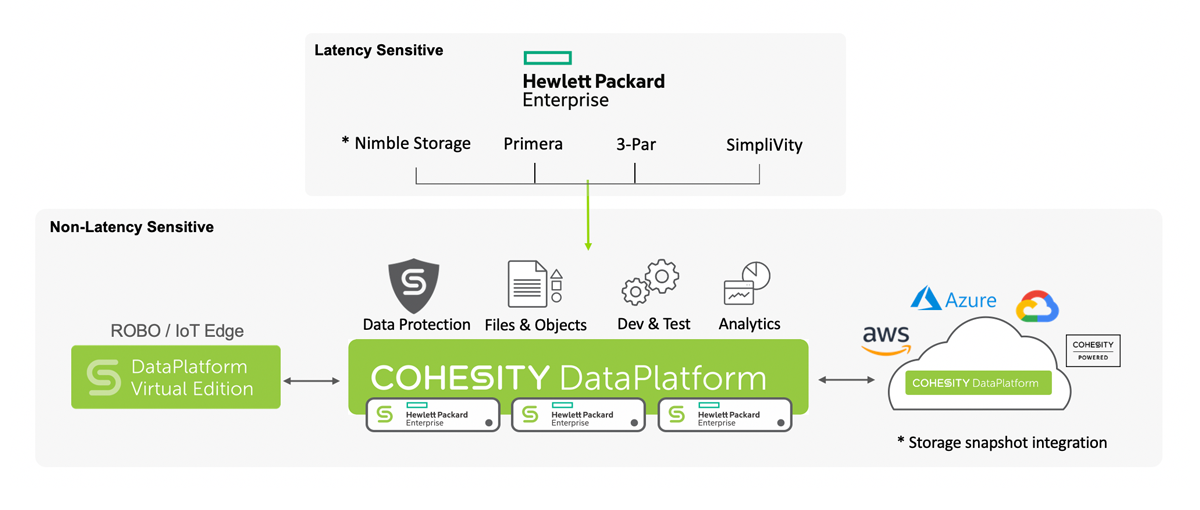 Figure 2: Simplify End-to-End with Cohesity-HPE Joint Solution
The joint solution combines the web-scale simplicity and efficiency of Cohesity software with the power and density of industry-leading HPE Apollo and HPE ProLiant Gen 10 servers, fortified with built-in security features of both providers for a truly secure and resilient solution. The Cohesity-HPE solution is available from HPE and its authorized partners and is being widely adopted by organizations globally. It comes with world-class support and services from Cohesity and HPE, including HPE Pointnext advisory services.