The Latest Cohesity News

Product and Solution Information, Press Releases, Announcements
Need Backup for Cloud Databases, Cloud VMs, and Files? We've got you covered!
Posted: Wed Nov 20, 2019 11:28:48 AM

In its recent "The Future of the DBMS Market is Cloud" report, Gartner notes that cloud databases are growing at 68% annually, outpacing on-premises database deployments by a long shot.
Now whether you are deploying your databases on-premises, in the cloud—or both—they are likely part of your business or mission critical applications. Protecting and backing up your databases is not an option, but a necessity.
One thing that needs to be clear, as it comes up often in conversations with customers: many assume that once something is moved to the cloud, the responsibility of taking care of it shifts to the cloud provider. This is absolutely WRONG. Cloud employs a shared responsibility mode. For the most part, cloud vendors take care of the physical infrastructure like data centers, servers, and network, but customers are still responsible for the data and applications.
Given the importance of backing up databases—whether in the cloud or on-premises—backing them up needs to be as simple as possible. And as cloud becomes more popular, further reducing storage costs when backing up or archiving to the cloud is becoming a high priority. Here's how Cohesity is addressing these challenges.
Amazon RDS backup – Cohesity Cloud Snapshot Manager
Even with a managed database service like Amazon RDS, where data does get backed up by default, it is still the customer's responsibility to ensure the default settings meet their protection, retention, and recovery requirements. And in many cases they don't. Here are the default or max settings for RDS backup:
Backup frequency: Daily only

Retention: up to 35 days

Recovery Point Objective: 24 hours based on daily backup. Log journals can assist in more manual granular recoveries.
If these don't meet your backup or recovery requirements, then your other option is trigger manual snapshots, making it cumbersome or difficult to automate your database backups.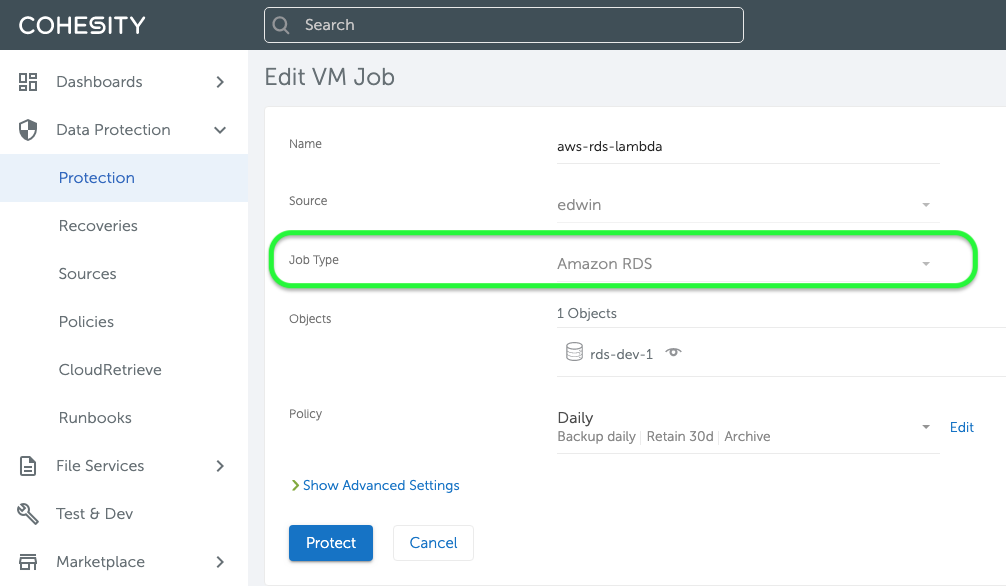 Figure 1: Configure RDS backup jobs through Cohesity UI.
This is where Cohesity comes in. Our new Cloud Snapshot Manager orchestrates and manages both automated and manual snapshot protection for Amazon RDS. You gain the ability and flexibility to backup, retain, and recover your data based on your needs or policies while consolidating your database and other data on a single platform across on-premises and the cloud and have it managed through a single UI. Need hourly backups instead of daily? SURE. Need to keep backups for 90 days or nine years? NO PROBLEM. Need to catalog ALL your Oracle databases running on-premises and in the cloud and search for them from one place? YES YOU CAN.
More options for Amazon EC2 backup
Cloud Snapshot Manager not only supports Amazon RDS, but also supports more general Amazon EC2 workloads. This gives our customers three choices to backup EC2 instances:
Agent-based backup with Cohesity Protection Service for app-consistent backups.

Native EBS snapshot API-based option where backups are stored on Cohesity to reduce cloud storage costs with data deduplication and compression.

Cloud snapshot manager – which manages and orchestrates EC2 snapshots and stores them on cloud storage, giving customers the option to remotely backup cloud instances from an on-premises Cohesity deployment without the need for additional cloud infrastructure.
Freedom of choice, flexibility, and data consolidation with Cohesity.
Backup SAP HANA on Cloud
SAP has been a leading database and business application provider in the enterprise for decades. With SAP HANA in-memory database, SAP is now delivering lightning fast performance and transaction speeds. With recent validations and partnerships with cloud providers, like AWS and Google Cloud, this is quickly becoming standard for high performance cloud database deployments.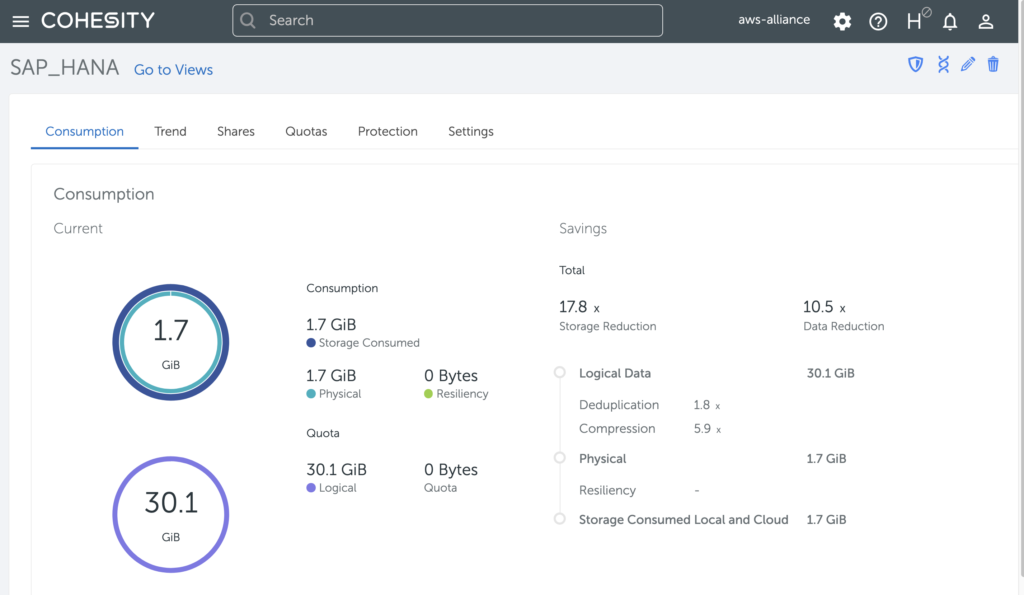 Figure 2: SAP HANA backup dashboard on Cohesity UI.
But just like SAP on-premises, SAP HANA on cloud needs backup too. Cohesity has validated our platform to backup SAP HANA running on AWS and Google Cloud. Not only can you consolidate SAP data across hybrid cloud, but you also gain:
Comprehensive and integrated protection for SAP HANA – Tight integration with SAP's Backint API to backup databases and logs with accelerated backups through multi-streaming and flexible recovery on the same or alternative server.

Ease of management – by integrating with existing SAP HANA tools (SAP HANA Cockpit, HANA Studio, DBA Cockpit, etc) to backup and restore SAP HANA databases. Cohesity UI provides global management and visibility of backup data across hybrid cloud.

Enterprise-grade – Cohesity's web-scale architecture scales linearly for performance and capacity while leveraging global variable-length dedupe and compression to reduce data and storage costs. While encryption at-rest and in transits secures your database and enhances security.
Cohesity makes it easy to protect you SAP HANA databases.
Cohesity CloudArchive Direct
One of Cohesity's most popular cloud features is Cohesity CloudArchive. Due to direct integration with cloud storage—such as Amazon S3 storage classes, Azure BLOBS, or Google Cloud Storage—CloudArchive makes it easy to archive older backup data from on-premises to cloud. It's a simple way to reduce long-term storage and retention costs while eliminating the operational burden and complexity of tape.
We are furthering our archive capabilities with CloudArchive Direct for files. Many of our customers are running on-premises NAS and file servers and would like to archive file data directly to the cloud. CloudArchive Direct allows customers to archive their NAS directly to the cloud and this eliminates the need to store a full backup copy on-premises. This helps free up valuable on-premises storage capacity by archiving data over to more cost effective cloud storage. The files are retained in their original format so users can either choose to recover the files back on-premises or access the files directly in the cloud leverage SaaS services to further analyse their data.
Support for Amazon S3 Glacier Deep Archive
Earlier this year Amazon Web Services (AWS) announced Amazon S3 Glacier Deep Archive storage class, which Is Amazon's lowest-cost cloud storage offering to date – at about one fourth the costs of Glacier. Cohesity is supporting Glacier Deep Archive as well as the other S3 storage classes giving customers the flexibility and choice to best manage their long-term storage costs, retrieval times, and risk and resiliency tolerance.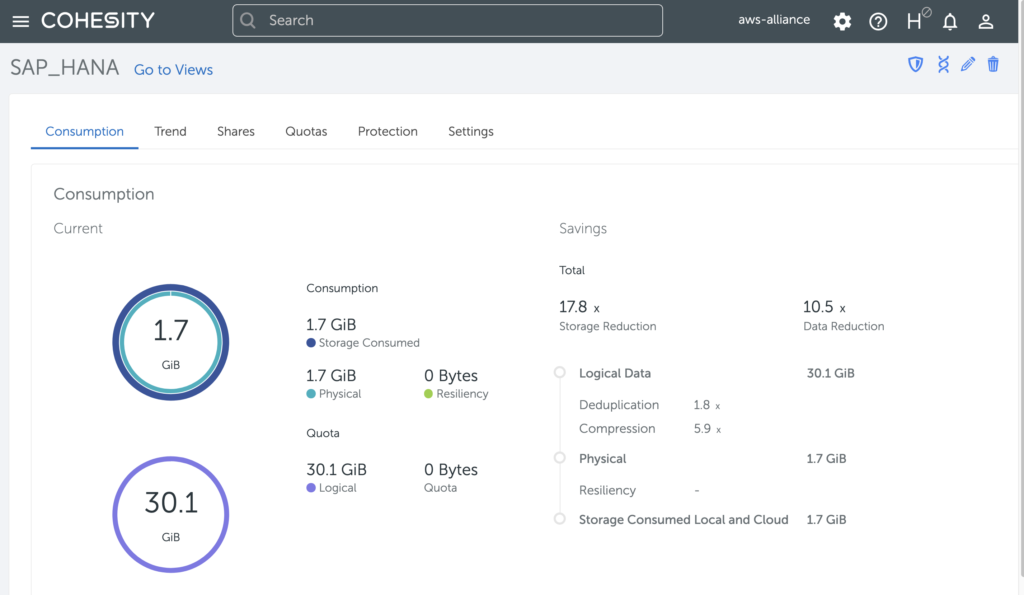 Figure 3: Cohesity supports the full range of Amazon S3 storage classes.